Author of The Detective Joe Sandilands Mystery Series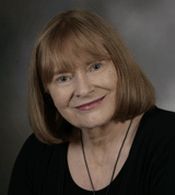 Barbara Cleverly was born in Yorkshire, England (1940) and is known for the Detective Joe Sandilands Mysteries (13 of them – enjoyed Spider in the Cup and Diana's Alter), Inspector Redfrye series (enjoyed Invitation to Die and Fall of Angels)) and the Laetitia Talbot mystery series. She received the Ellis Peters Historical Dagger award in 2004 and her writing is British, clever (ly), fast-paced, and intelligent. She draws the reader into her world.
While I'm reading Cleverly, I'm continuously reminded that educated Brits have a command of the language most of us lack. We generally wouldn't use words like insouciance (we might use nonchalance) and we hardly ever toss in Latin. I love that her historical books are often loosely based on actual people or incidents. In Diana's Alter, Joe Sandilands pretends to be an art connoisseur and holds his own with a Cambridge historian in order to find a killer – is it a cutting-edge researcher or someone in the aristocracy? And why does he have to rely on secretive female spies? I would make my way through all three of Cleverly's complete series if I didn't want to read so many other authors!