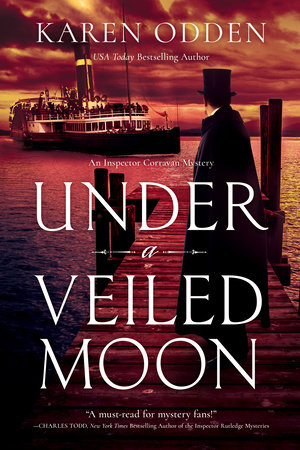 Today I talked to Karen Odden about her new book Under a Veiled Moon (Crooked Lane Books, 2022).
When the Princess Alice pleasure boat collides with a huge iron-hulled cargo ship on the Thames River, it's split in half, and only 130 of the 650 passengers and crew members survive. It's 1878, and clues point to sabotage by the Irish Republican Brotherhood, which has already used violence in hopes of restoring Home Rule. Inspector Michael Corravan, who was born in Ireland, orphaned, and raised in London by an Irish family, knows that the British will never allow Home Rule in Ireland if the IRB is to blame for the disaster. Meanwhile, violence is rising in his old neighborhood, and Colin Doyle, the youngest of his adopted family, has joined one of the violent Irish gangs. He refuses Corravan's offer of help, which puts the entire family in danger. With support from colleagues, his good friends Mr. Gordon Stiles and Mrs. Belinda Gale, Inspector Corravan presses on to uncover the truth.
KAREN ODDEN received her Ph.D. in English literature from New York University, writing her dissertation on Victorian railway disasters and the origins of PTSD. She has taught at UW-Milwaukee, written essays for numerous books and journals, and edited for the journal Victorian Literature and Culture (Cambridge UP). She freely admits she might be more at home in Victorian London than today, especially when she tries to do anything complicated on her iPhone. All of her mysteries are set in 1870s London. Her first novel, A LADY IN THE SMOKE, about a young woman in a 1874 railway crash, was a USA Today bestseller. In A DANGEROUS DUET, Nell Hallam, an ambitious young pianist stumbles on a notorious crime ring while playing in a Soho music hall. In A TRACE OF DECEIT, Annabel Rowe, a young painter at the Slade School of Art, must delve below the glitter of the art and auction world to uncover the truth about her brother's murder. A member of Mystery Writers of America and Sisters in Crime, Karen was awarded a 2021 Grant from Arizona Commission on the Arts. Under a Veiled Moon is the second novel in her Inspector Corravan series, following Down a Dark River. An avid desert hiker, Karen lives in Scottsdale, Arizona with her family and her rescue beagle muse, Rosy.